Unlike ordinary eyebrows tattoos, the new technology of 3D eyebrow embroidery uses a semi permanent makeup that impregnates pigments into the skins surface so as to create a fuller and completely natural looking eyebrow. This technique imitates and mimics the natural look of hair, which provides our customers with a 3-Dimension, natural and completely realistic look.
Our qualified technician is very accomplished and well renowned for providing our clients with natural and realistic looking cosmetically embroidered eyebrows. The pigmentation will last for approximately 2 to 3 years depending on individuals' skin type, after care and use of exfoliation products.
We use only the best-grade pigments and all needles and blades are completely brand new with individual sealed packages so as to avoid any transmission of infectious bacteria. No needles and blades will be reused and we always open the package in front of our customers.
Price:
| | |
| --- | --- |
| Eyebrow Embroidery | $3,000 |
| Eyeline Embroidery | $2,500 |
Procedure for Eyebrows Embroidery
1. Booking Appointment
Contact us by phone on 2155 9511 or Whataspp 9785 8188 and we will schedule the time of your appointment. Please book at least 1 week in advance of your planned visit.
2. Consultation
A consultation and assessment will be done by our specialist and she will answer any questions or concerns you may have.
3. Design of Eyebrows
Our specialist will pencil an outline onto your brows. In order to create the ideal brows that most complement and enhance your face shape, the shape will be based on the suitability of your features as well as your preference. We won't proceed to the next step until you are satisfied with the design.
4. Choice of Colour
Our specialist will discuss with you in order to determine the colour that is perfectly matched to your existing eyebrows.
5. Applying Numbing Cream
In order to minimize any discomforts during the treatment, a topical numbing cream will be applied and left on your brows for 30 minutes.
6. Eyebrow Embroidery
The technician will skillfully work on your brows using a soft-stroke technique in quick movements so as to create the impression of ultra fine hair strokes that simulate the look of your real hair.
7. Application of Nourishing Cream
The treatment will be finished off with a Soothing and Nourishing Cream for protection of the colour.
8. Procedure Completion
The procedure is now completed. The colour will look much darker in the first two weeks but it will gradually fade and blend with your natural brows over time.
9. Complimentary Touch-Up
A complimentary touch-up session within 3 months of the initial procedure is included in the price of the treatment. The final result is not determined until the touch up session has been completed. Alterations and enhancements can be accommodated prior to customers' requests.
After the treatment, there may be some redness and minor swelling but this will disappear within few hours to a couple of days. Customers need to carefully follow the aftercare instructions and avoid scrubbing the brows area or picking off any scabs that may form.

Customers will benefit from the eyebrow embroidery if they:
have sparse brows, thin brows or short brows;
have gaps or scars on their eyebrows;
wish to get rid of undesirable, existing eyebrow tattoo;
have tattooed eyebrows with discolouration (blue, red or orange);
suffer from hair loss due to alopecia or cancer;
want a achieve a particular shape for their eyebrows;
For your reference we have posted a few examples of our eyebrow embroidery results on our website, please feel free to contact us directly if you wish to see more comparison pictures or are interested in a free consultation.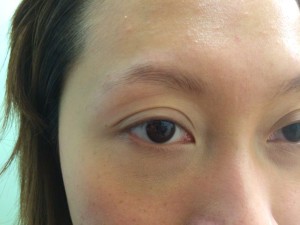 Before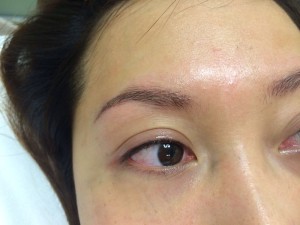 After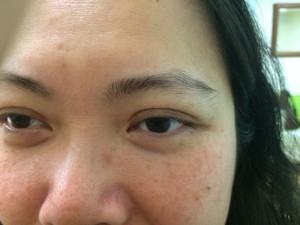 Before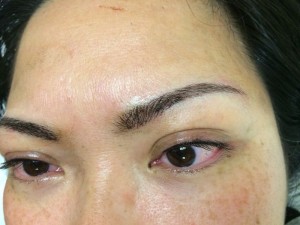 After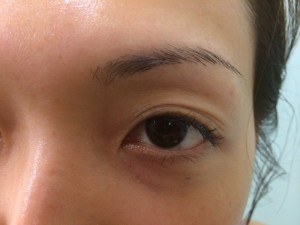 Before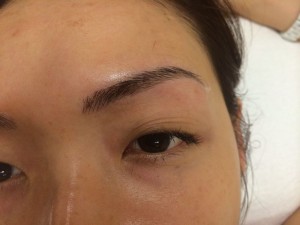 After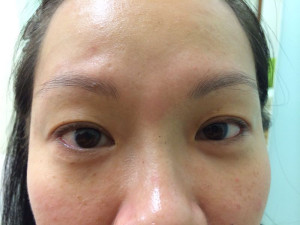 Before
After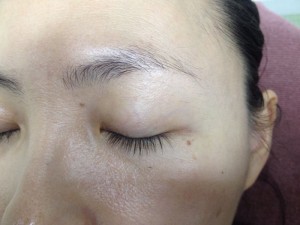 Before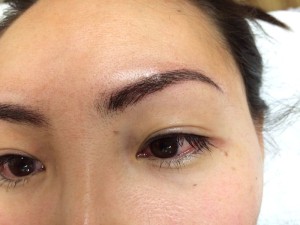 After